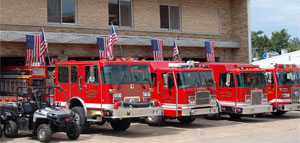 The Platteville Fire Department is a volunteer fire department that serves the city of Platteville and the townships immediately surrounding Platteville to total 132 square miles. We also provide mutual aid assistance to any of our neighboring fire departments just as they provide it to us when we request it.

We strive to make our community proud by providing our volunteers with regular training, continuing education and keeping our equipment and fire apparatus well maintained.
Submitted by Covert on Wed, 04/13/2016 - 11:55
Submitted by Covert on Mon, 06/06/2011 - 13:19
The link below is the City of Platteville siren sound for fire calls. This siren is a repeating wail sound. It is used whenever a fire call has been received and dispatched through the Police Department. It will only be used between 6AM and 10PM. It will sound for anywhere from 1 minute to 3 minutes. When the public hears this siren, we ask that they be more aware of their surroundings and if driving, pull over if they see someone behind their vehicle with red or white flashing lights. If not in a vehicle, please stay away from the streets.