Coverage Map
Coverage Map of Response District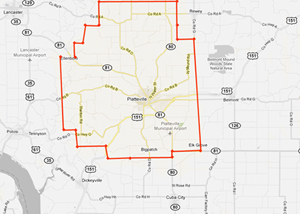 The Platteville Fire Department provides services to not only the City of Platteville, but we also respond into the Grant and Lafayette County townships immediately surrounding Platteville. In addition, the Platteville Fire Department proudly provides mutual aid assistance to any of our neighboring communities at request of their local fire department.
The map shown on this page outlines how much land area the Platteville Fire Department protects. Our fire and rescue units travel as far South as Big Patch on County Highway D (South). We travel as far North as County Highway A along County Highway D (North) and just past Arthur on Highway 80. Traveling to the West, we will respond as far as Ellenboro on Highway 81. To the East, our district ends just past the Platteville "M" mound.
People looking to join the Platteville Fire Department are requested to live inside our response area.